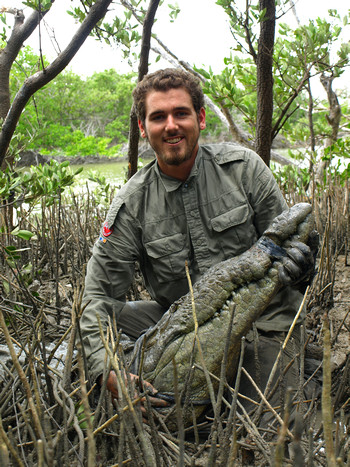 As a child I dreamed of one day becoming one of three things: a professional soccer player, a pirate, or a biologist. Soccer (futbol) was my hobby, pirating was my fantasy, and nature was my obsession. Over the years I've dabbled a bit in all three (never really pillaged anything though!), however it was eventually biology, conservation,and the wonders of Nature that won me over.

Today, after years of hard work and dedication, I have finally realized my dream of becoming a Biologist. When looking back at the path that brought me to where I am today, I realize that over the years I've been to some pretty amazing places and done some pretty spectacular things. I still remember like it was yesterday the first time I caught an American Crocodile, waded chest deep into an Alligator hole, wrangled a Burmese Python, cleaned up after lions and tigers at the Oakland Zoo, woke up at 5am every day to film an Andean Solitare nest, and hiked 8 hours at 3,000 meters elevation in pursuit of the rare Jocotoco Antpitta…

For some people these things might invoke feelings of pure fear, disgust, or anguish, but for me these are the experiences that define life. To look a rattlesnake in the eyes, to climb to the top of a tropical forest canopy, to travel the globe in pursuit of a newly described species! These are things that define who I am and what I love, and I'd never pass on adding another adventure to the list!

2005 was the first time I truly integrated my interest in photography with my profession. Working as a biologist allows me the privilege of observing things that many people will never see. Taking advantage of that privilege though my photography was automatic. In many scientific fields photography is not only a useful tool for research, but also a powerful tool to raise awareness and interest in the world around us! The pages of National Geographic are a prime example – never before have images been able to change the perspective of so many people. As they say, a picture is worth a million words; Oh were they right!

It is this spirit that I aim to embody with my photography. I want my pictures to do more than please the eyes; I want them to evoke a feeling, a thought, or a passion. I want my photography to make you want to fight for the protection of nature. Whether it's in the form of a letter, a phone call, a donation, or an action, I want the photos contained within these galleries to change your outlook on wildlife. Taking this spirit personally, I vow to use 100% of the proceeds from the sales of my photos for nothing other than conservation.

In the meantime, please take a look around at the galleries found on this site. If you see something that you like please purchase a print or specialty item (proceeds support conservation!). As I continue my work I will most certainly be adding photos to this site on a regular basis. I sincerely hope the images you encounter convey the dedication and passion I have for Natural History and all things Wild! And I hope it's contagious!

Enjoy,
Ryan L. Lynch

P.S. The American Crocodile pictured above in my arms is NOT dead. It was caught as part of a long term population monitoring study in south Florida that supports the species conservation.
© Ryan L. Lynch Photography